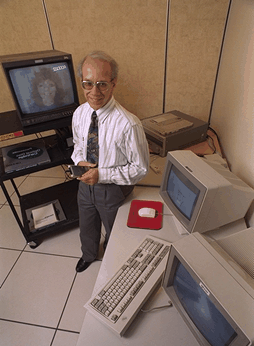 Bernd J. Kurz
Dipl Ing (Stuttgart), MScE, Ph.D. (UNB)
Professor Emeritus
Computer Science


Dr. Kurz's former teaching was conducted primarily in data communications and networking, and in Computer Telephony Integration (CTI). His other interests and previous teaching activities are in image processing/computer vision, and real-time processing oriented microcomputer systems. Several undergraduate and graduate courses, along with their respective laboratories have been developed in the above areas and were usually offered during the course of an academic year. Selected courses were available as correspondence courses on the WWW.

For CS4983/CS4997 report/thesis topics, follow this link

Current research centers about data communications and networking. This research addresses emerging technologies in wireless networks, from WWAN to WPAN and deals primarily with mobility enablers in global heterogeneous networks, and with applications for mobile end user devices, such as laptops, PDAs and Smartphones. In addition, QoS-enabling multi-tier handoff and other protocols for non-conventional link media in a variable-delay/harsh-error environment are researched. As a secondary research area, basic image processing work addresses data compression techniques for color imagery and deals with robust algorithms for object detection. Computer vision work focuses on cooperative vision systems and optimal target design for automated object measurement in an industrial environment.

View a Powerpoint presentation (in PDF form, 4 MB) for more detailed information on past and current research in wireless networking and mobile applications that I am involved in.

For an in-depth look at my most recent research activities in wireless telecommunications and mobility, visit our information web site on the CNSR research subproject Next Generation Wireless Telecommunications Systems for Mobility



| | |
| --- | --- |
| | |
| Dr. Kurz and his students discussing the development of a multi-context web page authoring tool for mobile applications in our FACADE context-aware framework, as part of the CNSR research. | Evaluation of a 1xEVDO/WiFi mobile hotspot by Dr. Kurz and his student in the CNSR lab of the Dept. of Electrical and Computer Engineering. |



Dr. Kurz's professional work is dedicated to the transfer of technology for the development of practical products. This work is usually undertaken under contract with industry or government institutions. Current emphasis is on products for the forest industries and has led to the development of automated tally systems with computer vision for saw mill production monitoring, log tally systems with optional voice input and remote database entry via landline and cellular telephone networks, wide-area wireless telemetry systems for environmental monitoring, and automated surveying instrumentation. Most products are in steady use by industry. Professional activities also include the presentation of invited seminars, lecture series, workshops and exhibitions throughout Canada and abroad.

Click on the above keywords for more details.
Professors have a private life too
For a peek at what my family and I are like, and what we are doing when we find the time for it,
click here The Kurz Family.
To send an E-mail, click here bjkurz@unb.ca or contact me via ICQ#11322506
You are Visitor number
Go to:
Computer Science Home Page
University of New Brunswick Home Page
Last revised: 14 December 2010 by Bernd Kurz bjkurz@unb.ca